Apresiasi Lintas Genre Musik Indonesia Melalui Synchronize Festival
Dadang Dwi Septiyan

Universitas Sultan Ageng Tirtayasa
Keywords:
synchronize festival, festival musik, apresiasi musik
Abstract
Synchronize Festival merupakan festival musik multi-genre tahunan berskala nasional yang mengundang puluhan ribu audiens untuk merayakan keberagaman jenis musik hidup di lima panggung selama tiga hari, tiga malam, menikmati suguhan 100-an pertunjukan terkurasi dari artis-artis terbaik tanah air yang datang dari dekade 1970-an, 1980-an, 1990-an hingga 2000-an. Melihat popularitas Synchronize Festival yang digandrungi oleh penikmat musik lintas genre di Indonesia, maka penelitian ini bertujuan untuk memberikan informasi deskriptif tentang kontribusi yang diberikan Synchronize Festival terhadap pendidikan apresiasi musik lintas genre musik. Hasil penelitan menunjukan bahwa, Synchronize Festival dapat meng-capture industri musik tanah air dan berupaya memfasilitasi seluruh genre musik, termasuk musik-musik yang dianggap "norak". Salah satu karakter Synchronize Festival yaitu mengundang musik-musik yang kesannya sudah tertinggal kemudian dikenalkan kembali kepada penonton, yang pada akhirnya mengedukasi penonton yang sebelumnya tidak mengetahui menjadi banyak pengetahuan baru yang didapat setelah hadir dalam Synchronize Festival.
Downloads
Download data is not yet available.
References
Anderton, C. (2011). Music festival sponsorship: Between commerce and carnival. Arts Marketing: An International Journal.
Barrett, M. S., & Bond, N. (2015). Connecting through music: The contribution of a music programme to fostering positive youth development. Research Studies in Music Education, 37(1), 37–54.
Demajors News. (2020a). Synchronize Fest 2020 Tampil di Layar Kaca.
Demajors News. (2020b). Synchronize Fest Inisiasi Gerakan Bersama.
Djohan. (2011). Perilaku Musikal dan Kepribadian Kreatif.
Doğantan-Dack, M. (2012). The art of research in live music performance. Music Performance Research, 5, 34–48.
Finney, J. (2002). Music education as aesthetic education: a rethink. British Journal of Music Education, 19(2), 119–134. https://doi.org/DOI: 10.1017/S0265051702000219
Hakim, A. L. (2015). Seni untuk Semua di Festival Lima Gunung.
Mark, M. L., & Madura, P. (2013). Contemporary music education. Cengage Learning.
Packer, J., & Ballantyne, J. (2011). The impact of music festival attendance on young people's psychological and social well-being. Psychology of Music, 39(2), 164–181.
Purnama, C. (2020). Analisis Strategi Pemasaran Melalui Media Sosial Instagram Pada Kegiatan Syncronize Festival. Podomoro University.
Rahmania, R. A. (2015). Pengaruh Promotion Mix Terhadap Kepuasan Pembelian Tiket Pada Event Indonesia Fashion Week 2015. E-Proceeding of Management, 2(3), 2947–2953.
Septiyan, D. D. (2019). Pengaruh Habitus Dari Selera Musik Terhadap Konsep Diri Penikmatnya. Musikolastika: Jurnal Pertunjukan Dan Pendidikan Musik, 1(2), 101–108.
Setiawan, E. (2016). Musik untuk Kehidupan. Art Music Today Pubisher.
Setiawan, E. (2017). Filosofi Pendidikan Musik: Kritik dan Renungan. Art Music Today Pubisher.
Sinaga, F. S. S. (2020). Musik Trunthung Sebagai Wujud Kearifan Lokal Dalam Konteks Pendidikan Seni. Tonika: Jurnal Penelitian Dan Pengkajian Seni, 3(1), 27–38.
Stone, C. (2009). The British pop music festival phenomenon. International Perspectives of Festivals and Events, 205–224.
Swanwick, K. (2003). A Basic for Music Education. Taylor & Francis e-Library.
Tarsa, A. (2016). Apresiasi Seni: Imajinasi Dan Kontemplasi Dalam Karya Seni. JPGI (Jurnal Penelitian Guru Indonesia), 1(1).
Westerlund, H. (2003). Bridging experience, action, and culture in music education. Sibelius-Akatemia.
Yngvar, K. (2018). Live and Recorded Music Experience in The Digital Millenium. Pop Music, Culture, and Identity. Springer International Publishing.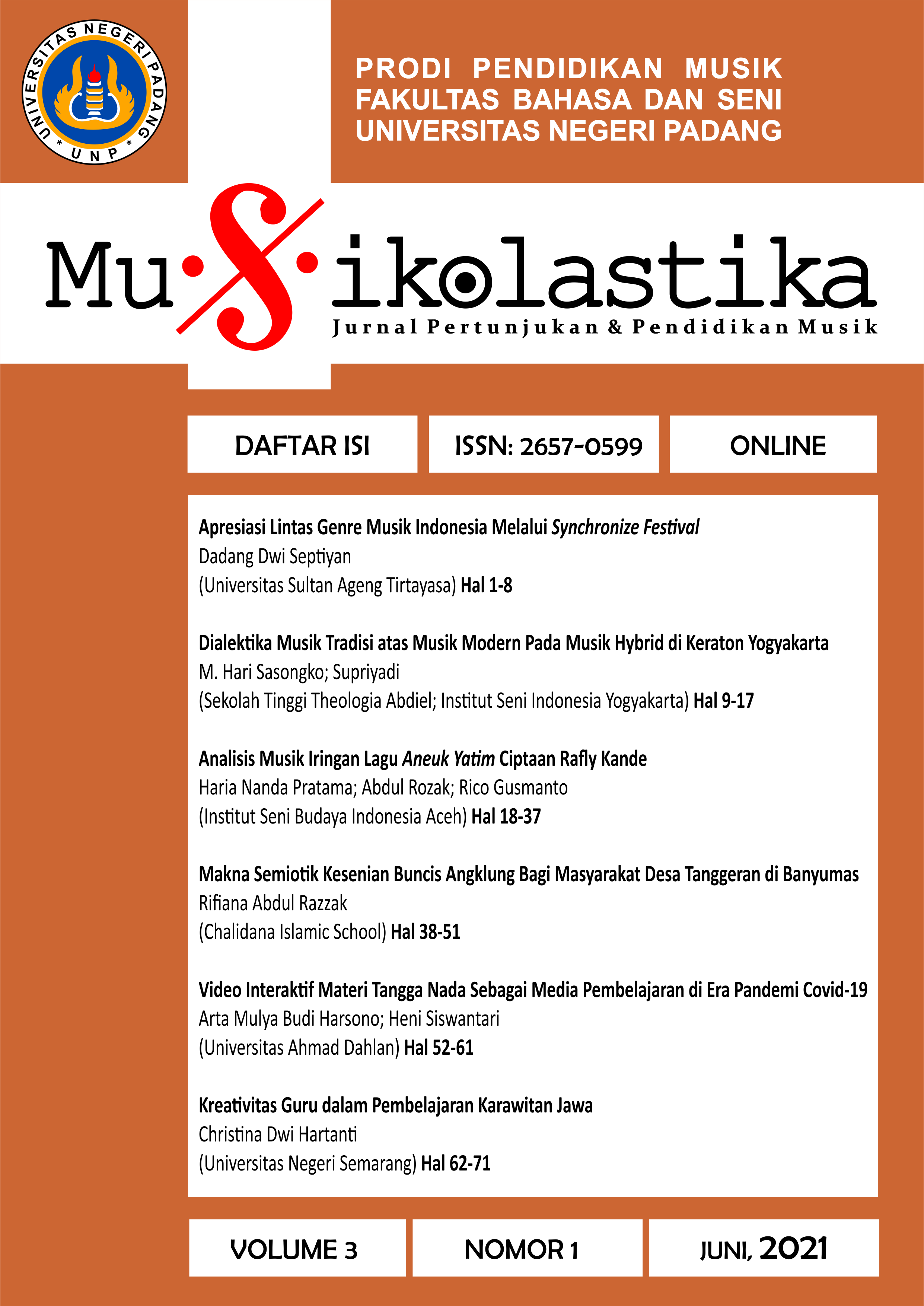 How to Cite
Septiyan, D. (2021). Apresiasi Lintas Genre Musik Indonesia Melalui Synchronize Festival. Musikolastika: Jurnal Pertunjukan Dan Pendidikan Musik, 3(1), 1-8. https://doi.org/10.24036/musikolastika.v3i1.57
Copyright (c) 2021 Dadang Dwi Septiyan
This work is licensed under a Creative Commons Attribution-ShareAlike 4.0 International License.
Authors who publish with this journal agree to the following terms: Authors retain copyright and grant the journal right of first publication with the work simultaneously licensed under a Creative Commons Attribution-ShareAlike 4.0 International License. that allows others to share the work with an acknowledgement of the work's authorship and initial publication in this journal.
Authors are able to enter into separate, additional contractual arrangements for the non-exclusive distribution of the journal's published version of the work (e.g., post it to an institutional repository or publish it in a book), with an acknowledgement of its initial publication in this journal. Authors are permitted and encouraged to post their work online (e.g., in institutional repositories or on their website) prior to and during the submission process, as it can lead to productive exchanges, as well as earlier and greater citation of published work (See The Effect of Open Access).

This work is licensed under a Creative Commons Attribution-ShareAlike 4.0 International License.