Metode Pembelajaran Jarak Jauh Pada Mata Kuliah Gitar Klasik Lampung Pepadun di Prodi Pendidikan Musik, Fakultas Keguruan Ilmu Pendidikan, Universitas Lampung
Erizal Barnawi

Universitas Lampung

Afrizal Yudha Setiawan

Universitas Lampung
Keywords:
Lampung classical guitar, distance learning methods, students, music education
Abstract
The difficulties in learning the Lampung Pepadun Classical Guitar practice are caused by several factors, including; 1) the learning process is not guided directly by trainers who are experts in their fields; 2) many students of the Music Education study program are not yet able to read block notation in the form of songs; 3) some students do not have the skills to play guitar with the correct technique. The long-term goal in learning Lampung Pepadun Classical Guitar is that students are able to become agents of change in preserving the art of Lampung Pepadun Classical Guitar and become pioneers in developing and creating music, both contemporary music and creative music. The specific target to be achieved in this research is the creation of a new teaching pattern in the field of Lampung traditional music, namely learning by using several applications and distance learning methods in accordance with the concept of learning. Several online learning methods have been applied using various applications such as Youtube, MP3, and Sibelius. Online learning is learning that is carried out without face to face directly, using smartphone/gadget/laptop devices, and video conferencing platforms as a space for the learning process to take place. However, the seven learning components which include teachers/lecturers, students, objectives, materials, methods, media, and evaluation must remain an integral component of online learning, which will be integrated in achieving learning objectives
Downloads
Download data is not yet available.
References
Asyhar, Rayandra. (2012). Kreatif Mengembangkan Media Pembelajaran. Jakarta: Referensi Jakarta.
Dabbagh, N. Marra, R.M., & Howland, J.L. (2018). Meaningful Online Learning Integrating Strategies, Activities, and Learning Technologies for Effective Designs. Routledge.
Departemen Pendidikan Nasional, (2002). Kamus Besar Bahasa Indonesia. Jakarta: Balai Pustaka
Don Michael Randel, ed., (1986). The New Harvard Dictionary f Music. London: The Belknap Press of Harvard University Press.
Barnawi, E., Pamungkas, B., Prayoga, M. R. D., & Yoga, M. (2021). Gitar Klasik Lampung Pesisir: Pola Permainan dan Sistem Penalaannya. Journal of Music Science, Technology, and Industry, 4(2), 233-249.
Barnawi, E. (2019). Eksistensi Gitar Klasik Lampung Tulang Bawang dan Pengembangannya. Dalam Prosiding Seminar Nasional: Temu AP2SENI 2019, (Makkasar: Asosisasi Prodi Pendidikan SENDRATASIK Indonesia, 2019), Hal 52-56
Kustandi, C., & Darmawan, D. (2020). Pengembangan Media Pembelajaran. Jakarta: Kencana.
Hamalik, O. (2014). Kurikulum dan Pembelajaran. Jakarta: Bumi Aksara.
Iskar, (2012). Kamus Bahasa Lampung Aksara Edisi 2. Bandar Lampung: Smart Cipta Intelekta.
Misthohizzaman. (2006). Gitar Klasik Lampung, Musik dan Identitas Masyarakat Tulang Bawang (Tesis untuk meraih gelar S2 pada Jurusan Ilmu-ilmu Humaniora Program Studi Pengkajian Seni Pertunjukan dan Seni Rupa Sekolah Pascasarjana Universitas Gadjah Mada Yogyakarta, 2006).
Moor, M.G., Kearsley, G. (2011). Distance Education: A Systems View of Online Learning. USA: Wadsworth.
Irawan, Ricky. (2013). Ritme Inti Pada Gambus Dan Gitar Lampung Pesisir : Sebuah Kajian Transformasi Musikal di sampaikan dalam prosiding pada acara "Konferensi Internasional VI, Bahasa, Sastra, dan Budaya Daerah. Lampung 24-26 September 2016 (Lampung: Ikatan Dosen Budaya Daerah Indonesia Komisariat Lampung), 461Ruhimat, Toto. Tim Pengembang MKDP Kurikulum dan Pembelajaran. 2013. Kurikulum dan Pembelajaran. Jakarta: Rajawali Pers.
Sabaruddin. (2012). Lampung Pepadun dan Saibatin/Pesisir – Dialek O/Nyow dan Dialek A/Api Jakarta: Buletin Way Lima Manjau.
Siregar, Eveline, & Nara. (2014). Teori Belajar dan Pembelajaran. Bogor: Ghalia Indonesia.
Usman, M.U., & Lilis, S. (2012). Upaya Optimalisasi Kegiatan Belajar Mengajar. Bandung: PT. Remaja Rosdakarya.
Pono Banoe, (2003). Kamus Musik. Yogyakarta: Kanisius.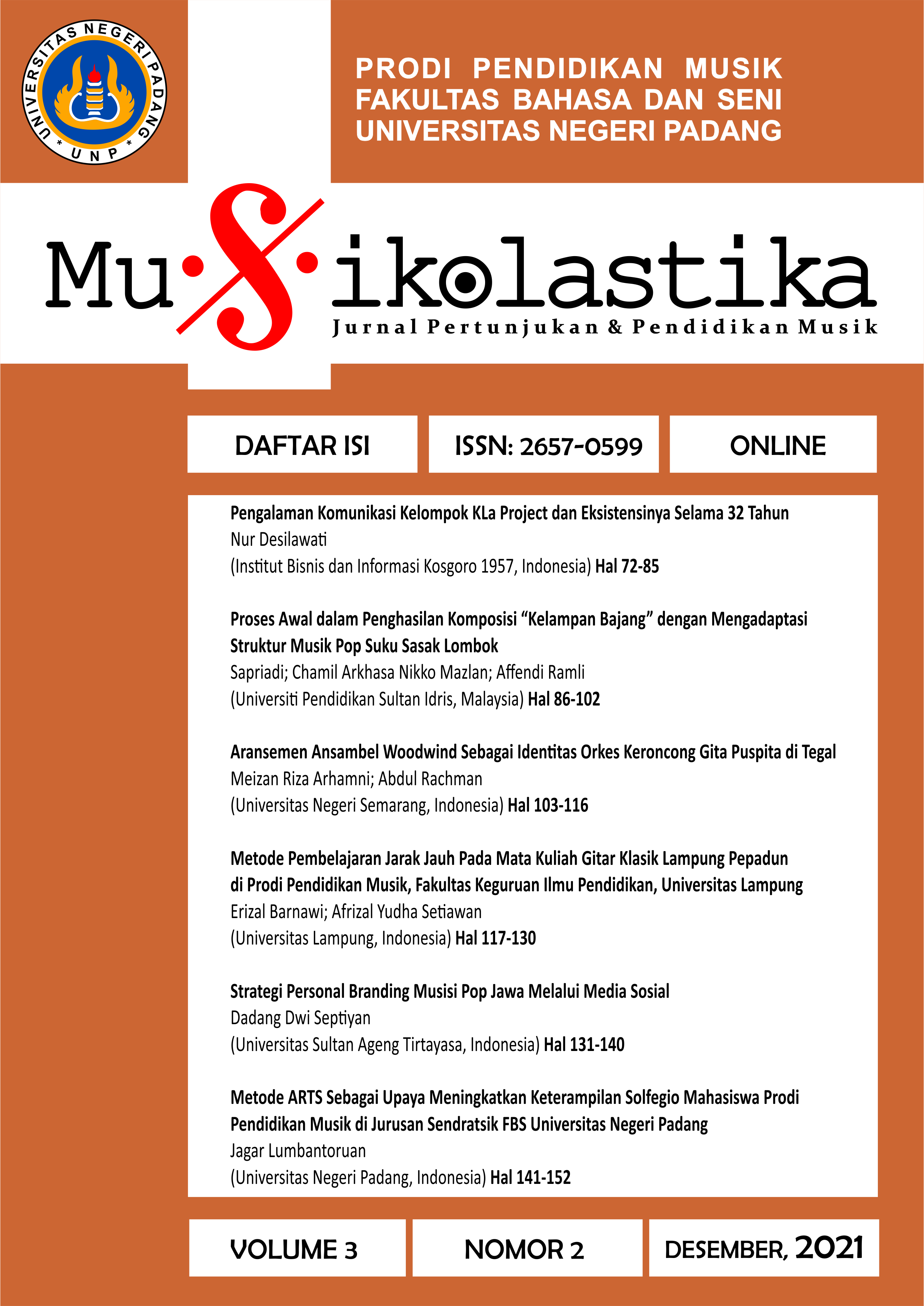 How to Cite
Barnawi, E., & Setiawan, A. (2021). Metode Pembelajaran Jarak Jauh Pada Mata Kuliah Gitar Klasik Lampung Pepadun di Prodi Pendidikan Musik, Fakultas Keguruan Ilmu Pendidikan, Universitas Lampung. Musikolastika: Jurnal Pertunjukan Dan Pendidikan Musik, 3(2), 117-130. https://doi.org/10.24036/musikolastika.v3i2.70
Copyright (c) 2021 Erizal Barnawi, Afrizal Yudha Setiawan
This work is licensed under a Creative Commons Attribution 4.0 International License.
Authors who publish with this journal agree to the following terms: Authors retain copyright and grant the journal right of first publication with the work simultaneously licensed under a Creative Commons Attribution-ShareAlike 4.0 International License. that allows others to share the work with an acknowledgement of the work's authorship and initial publication in this journal.
Authors are able to enter into separate, additional contractual arrangements for the non-exclusive distribution of the journal's published version of the work (e.g., post it to an institutional repository or publish it in a book), with an acknowledgement of its initial publication in this journal. Authors are permitted and encouraged to post their work online (e.g., in institutional repositories or on their website) prior to and during the submission process, as it can lead to productive exchanges, as well as earlier and greater citation of published work (See The Effect of Open Access).

This work is licensed under a Creative Commons Attribution-ShareAlike 4.0 International License.