Pengalaman Komunikasi Kelompok KLa Project dan Eksistensinya Selama 32 Tahun
Nur Desilawati

Institut Bisnis dan Informatika Kosgoro 1957
Keywords:
group communication, kla project, phenomenology, music
Abstract
The 1990s are considered a major force on fashion, music and screens. At that time, in Indonesia various bands were born, developed and reached a golden age. One of them is the KLa Project, which is still surviving until the age of 32. This study aims to determine the experience of group communication in the KLa Project band in an effort to maintain their existence for 32 years in the Indonesian Music scene. The method used is qualitative with a phenomenological approach. The research subjects consisted of the main research subjects, namely KLa Project personnel, namely Ignatius Bagaskoro Katon, Romulo Radjadin, Adi Adrian and Ahmad Ari Suharto. Supporting research subjects were also taken in this study, namely the crew and management of the KLa Project, as well as several other fellow musicians who are related to the KLa Project. The results show that communication between personnel in the KLa Project music group or band is the most important and fundamental thing. The group communication is also dynamic and there is a change in communication patterns during the early formation and journey of the KLa Project, namely from 1986-1987 to 2000, with the communication situation between personnel in 2001.
Downloads
Download data is not yet available.
References
Desmita. (2005). Psikologi Perkembangan. PT. Remaja Rosadakarya.
Devito, J. A. (2011). Komunikasi antar manusia, edisi ke-5. Tangerang Selatan: Karisma Publishing Group.
Doe. (2019). Era 1990-an: Ziarah ke Masa Terindah. Harian Kompas.
Fiske, J. (2012). Pengantar ilmu komunikasi. Jakarta: PT Raja Grafindo Persada.
Goldberg, A. . dan C. E. L. (2011). Komunikasi Kelompok: Proses-proses Diskusi dan Penerapannya. Universitas Indonesia UI Press.
Hidayat, D. (2012). Komunikasi Antarpribadi dan Medianya. Graha Ilmu.
Hidayatullah, R. (2021). Komunikasi musikal dalam konser "musik untuk republik." Tonika: Jurnal Penelitian Dan Pengkajian Seni, 4(2), 145–160.
Kuswarno, E. (2009). Fenomenologi: metode penelitian komunikasi: konsepsi, pedoman, dan contoh penelitiannya. Widya Padjadjaran.
Littlejohn, S. W., & Foss, K. A. (2010). Theories of human communication. Waveland press.
Meilisa, V. F., & Tafrikhuddin, T. (2020). KOMUNIKASI PERSUASIF RELAWAN PERPUSTAKAAN DESA (STUDI KASUS PERPUSTAKAAN DESA SUMBER ILMU BALECATUR). Jurnal Pustaka Ilmiah, 5(2), 916. https://doi.org/10.20961/jpi.v5i2.38172
Misiak, H., & Sexton, V. S. (2009). Phenomenological, Existential, and Humanist Psychology. Band-Ung: PT. Refika Aditama.
Resi, L. A., Haryono, S., & Subiyantoro, S. (2019). Pendidikan Seni Tari Sanggar Seni Sarwi Retno Budaya Surakarta Sebagai Pengembangan Karakter Anak. Mudra Jurnal Seni Budaya. https://doi.org/10.31091/mudra.v34i3.648
Salsabila, H. (2011). Akomodasi Komunikasi dalam Interaksi Antarbudaya (Kasus Perantau yang Berasal dari Daerah Banyumasan dalam Mengomunikasikan Identitas Kultural). Faculty of Social and Political Sciences.
Supratman, L. P., & Rafiqi, A. (2016). Kajian etnografi komunikasi pada gaya berkomunikasi komunitas hansamo modern dance boys di Kota Bandung. Jurnal Kajian Komunikasi, 4(1), 1–9.
Sutiyono. (2011). Fenomenologi Seni. Insan Persada.
Tanujaya, B. C., Tjahjo, J. D. W., & Indrayani, I. I. (2018). Internalisasi Budaya Organisasi Melalui Komunikasi dalam Organisasi Musik Cognatio Orkest. Jurnal E-Komunikasi, 6(2).
Sapir. 2016. Teori Komunikasi Massa. Jakarta: Prenada Media Group.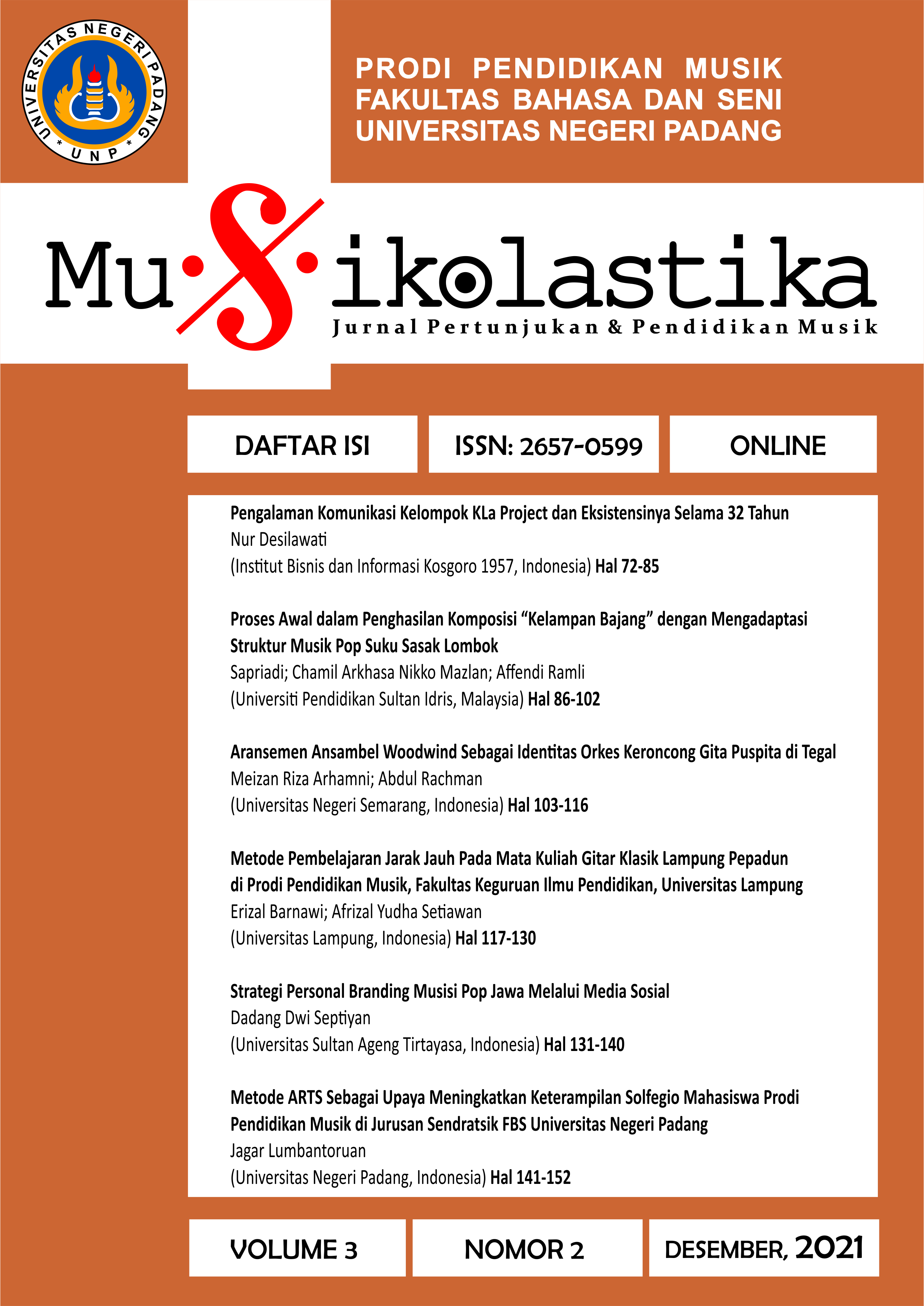 How to Cite
Desilawati, N. (2021). Pengalaman Komunikasi Kelompok KLa Project dan Eksistensinya Selama 32 Tahun. Musikolastika: Jurnal Pertunjukan Dan Pendidikan Musik, 3(2), 72-85. https://doi.org/10.24036/musikolastika.v3i2.67
Copyright (c) 2021 Nur Desilawati
This work is licensed under a Creative Commons Attribution 4.0 International License.
Authors who publish with this journal agree to the following terms: Authors retain copyright and grant the journal right of first publication with the work simultaneously licensed under a Creative Commons Attribution-ShareAlike 4.0 International License. that allows others to share the work with an acknowledgement of the work's authorship and initial publication in this journal.
Authors are able to enter into separate, additional contractual arrangements for the non-exclusive distribution of the journal's published version of the work (e.g., post it to an institutional repository or publish it in a book), with an acknowledgement of its initial publication in this journal. Authors are permitted and encouraged to post their work online (e.g., in institutional repositories or on their website) prior to and during the submission process, as it can lead to productive exchanges, as well as earlier and greater citation of published work (See The Effect of Open Access).

This work is licensed under a Creative Commons Attribution-ShareAlike 4.0 International License.